Why eat tomatoes in December or Brussels sprouts in June? Each has its time when it is perfectly ready and delicious and just picked here in Connecticut. It will be tastiest, most nutritious and free of storage and transportation costs as well.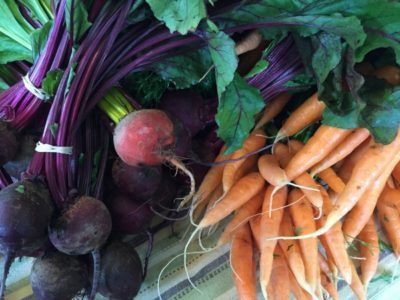 Eating with the seasons does not have to restrict one's palate unduly. In the coldest winter our greenhouses offer fresh greens for salads and braising, small white turnips, herbs, and sweet carrots. And there is a bounty from the root cellar: parsnips, potatoes, winter squash, garlic, onions and Jerusalem artichokes.
Spring brings bok choi, peas, lettuce, kale, spinach, beets, radishes, fennel, baby turnips and garlic scapes.
Summer features string beans, tomatoes, summer squash, cucumbers, eggplant, soybeans, broccoli, cauliflower, cabbage, garlic, peppers, potatoes, and onions.
We wind down the year with hardy vegetables sweetened by the first frosts – Brussels sprouts, rutabagas, cabbage, cauliflower, broccoli, kale, carrots, parsnips, winter squash and Jerusalem artichokes.
But the above list doesn't say it all. "Potatoes" includes six varieties of all colors and shapes. There are some 30 varieties of tomatoes; cherry tomatoes alone come in the following colors: red, yellow, orange, black, pink and green. And winter salad greens include mâche, arugula, claytonia, spinach, minutina, mizuna, and mustard.
Years of eating our own vegetables have sensitized our palates to seasonal flavors. We are now surprised to see string beans and corn on the menu in March. You will be too!
Contact us to receive email alerts about what's new at the farm stand.