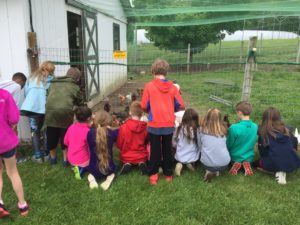 Farm tours are fun and educational for all ages. They can include feeding the lambs and chickens, collecting eggs, harvesting something delicious like a fresh carrot, turnip or strawberry, tractor inspection and learning about organic growing methods.
Regular Tour: 10 people minimum; $9 per person. Children under 6 are $5.
Critter Tour:  10 people minimum; Supervised feeding of lambs in the pasture, holding a chick or chicken, collecting eggs, visiting the bee hives. $14 per adult/$10 per child.
Harvest Tour: 10 people minimum; $18 per adult/ $9 per child. Includes an easy planting project and the harvesting of produce to take home.
Snack option for 10 people minimum: Add $6 per person for farm-made cookies or cupcakes and herbal iced tea.
Lunch option for 10 people minimum: Pizza, sandwiches, salads and bakery treats. Add $18 per person.
A deluxe tour can be arranged featuring a sit-down lunch, brunch or dinner and tour of the farm. Please email us to discuss!