From the Field
Eggs
Carrots
Celeriac
 Leeks  
Scallions
Garlic 
Potatoes
Beets
Shallots
Winter Squash
Spinach
Onions
Rutabagas
Kale
Salad Mix
Arugula
Watermelon Radishes
Jerusalem Artichokes
Brussels sprout
Daikon Radishes
Parsnips
Turnips, purple topped
White Salad Turnips
Rutabagas
Celery Root
---
FROM THE KITCHEN
Offerings on 12/9 include  Butternut Risotto, Chicken Salad, Leek and Potato Soup,   bone broth from our own chickens, pesto, beet or spicy carrot hummus, hot sauce,  iced tea (lemon verbena & hibiscus blossoms) and vinaigrette.
A typical array of baked goods includes scones, mini-quiches, shortbread & rosemary cookies, chocolate beet cake, vegan chocolate cake, breakfast cookies (GF & DF), kale cupcakes with orange buttercream frosting, and pizza at noon. Holiday pastries include mini mince pies, apple tarts, fig newtons, and ginger cookies.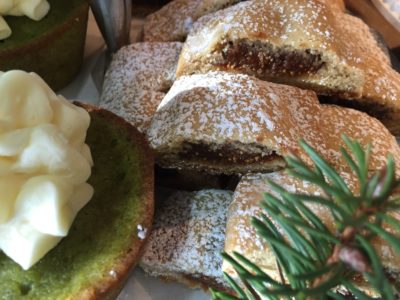 We invite you to sit on the terrace to enjoy your lunch or snack, or grab a seat in our cozy farm stand.
We also sell bread from Farm to Hearth Bakery, cheese from Shelburne Farm and bagged organic coffee from Ashlawn Farm, with brewed coffee on Saturdays.