The fields are frozen, but seedlings have begun in the propagation house, the chickens are laying eggs, and we have a good supply of our own lamb, so stay tuned for when we re-open!
---
FROM THE KITCHEN
Offerings typically include  quiches, soups, bone broth, pesto, beet or spicy carrot hummus, hot sauce,  iced tea (lemon verbena & hibiscus blossoms) and vinaigrette.
A typical array of baked goods includes scones, mini-quiches, shortbread & rosemary cookies, chocolate beet cake, vegan chocolate cake, breakfast cookies (GF & DF), kale cupcakes with orange buttercream frosting, and pizza at noon. Holiday pastries include mini mince pies, apple tarts, fig newtons, and ginger cookies.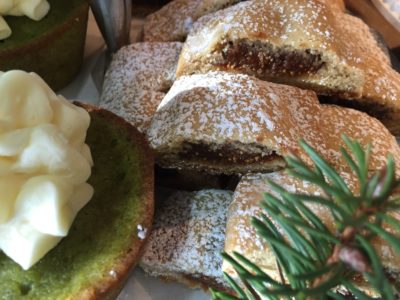 We invite you to grab a seat in our cozy farm stand.
We also sell bread from Farm to Hearth Bakery, cheese from Shelburne Farm and bagged organic coffee from Ashlawn Farm, with brewed coffee on Saturdays.